10% off all orders with code SPRINGFLING through May 15! FREE SHIPPING on orders over $35!
Art is the Source for Inspiration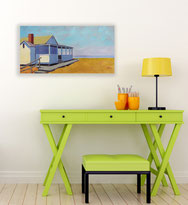 I am a fine artist and designer. I dream in color and creativity! I believe that art can make people happy. My landscapes are filled with color and contrast, and I hope to bring my viewers to that place and time of day. I would like to think that someone looking at my work might be reminded of a place they have been to, or maybe become nostalgic for a memory. Putting these images on everyday objects, like a business card holder, allows people to carry art with them. Maybe the art will start a conversation! I am also a lover of the North Fork of Long Island. I designed an iconic logo that all North Fork lovers should proudly wear! Hope you enjoy browsing.